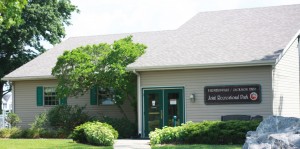 Rent out the Community Center for your next function, such as: wedding receptions, family/class reunions, wedding/baby showers, birthday parties, holiday parties, or any time you just need a place to gather.
The Community Center has an outside patio with picnic tables, a complete kitchen with 2 stoves with ovens, refrigerator, microwave, 10 8′ tables, 6 round tables and 80 chairs. The building is handicap accessible and will accommodate up to 86 guests.
Rental fees for any party where alcohol is served is $300.00.
Rental fees for all other non-alcohol parties are $225.00.
If you leave the Community Center looking "good as new," or completely cleaned and nothing is broken, you will receive a $50.00 refund!
When booking the Community Center, you will be asked to sign a Hold Harmless agreement on the rules and conditions of the facilities.
You can also rent the Community Center on weekdays on an hourly basis. Call (937) 696-3010 for more further information or to schedule your upcoming event.